Among all the tools a business uses to thrive, a website is one of the most important. Websites are the virtual handshake for people just meeting you, so why not give them a good first impression? Follow this scenario and, please, read on if you or someone you know is in this situation:
You made a website for your small business just because it's the "thing to do," but you're not really sure what you should be getting out it. Since its launch, your website has remained untouched (no updated information, no new pictures, etc.), but you're nervous to update it yourself because you might break something. You're constantly saying to your more tech-savvy coworkers or family members, "I need help with my website," but it seems like no one has time to pitch in. Additionally, you're unsure if people are even coming to your website, so is it even worth it?
Too often, small businesses have outdated, unresponsive websites. Those problems can seem unimportant when you're not even sure people are reading your content. Byte Size Digital is here to let you know that you should absolutely work to fix your website. According to a 2012 Mobile User Survey, 94 percent of people cited web design as the reason they mistrusted or rejected a website. An effective website has the power to drive traffic, convert leads, and boost sales.
If you're not interested in undergoing a full website redesign, here are five quick and easy changes you can make to your website that will get you results!
1. Make your Unique Value Proposition (UVP) clear.
On your homepage, right off the bat, it should be clear to your website visitors what you do and what sets you apart from the rest. Whether it be a short eye-catching tagline or a stamp of money-back guarantee and free shipping, your visitors should know why they should choose you over your competitors.
A great example of UVP is MailChimp. This email marketing platform sets itself apart by not just sending emails, but by helping you build your brand and sell more stuff. With those two sentences and the blurb underneath, their website visitors learn what makes them unique. Who wouldn't want to build their brand and sell more stuff?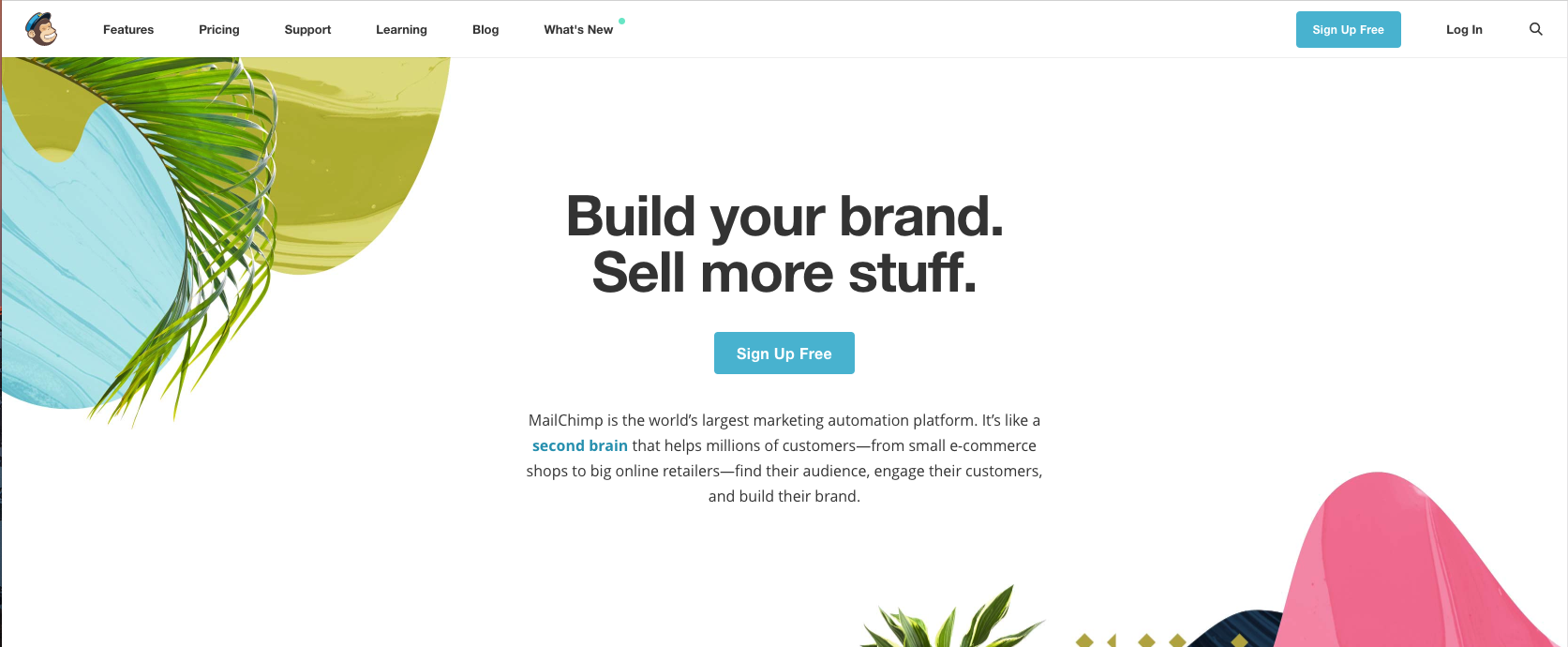 2. Add calls-to-action to your website.
A call-to-action (CTA) is a directed phrase telling visitors what you want them to do. For example, "Register now," "Download the free ebook now," or "Sign up today." It seems simple enough, but so many small business websites contain zero CTAs! The proof is in the pudding – more than 90 percent of visitors who read your headline also read your CTA copy. Additionally, Grow and Convert estimates conversion rates for certain CTA locations:
Sidebar: 0.5  to 1.5 percent

Generic, end-of-post: 0.5 to 1.5 percent

Pop-ups: 1 to 8 percent

Sliders and bars: 1  to 5 percent

Welcome gates: 10  to 25 percent

Feature box: 3 to 9 percent

Navbar: varies
3. Test your headlines.
Among the variety of reasons for why someone may leave your website, your headline could be one. You might think you have a killer headline that hooks visitors at first sight, but it might not be landing with your actual customers. First impressions are formed pretty quickly, so the first thing you customer sees needs to be effective. Luckily, a headline is simple enough to change and test! Try out different phrasing or a shorter headline, and see if it makes a bigger impact.
4. Cut out unnecessary content.
A website with too much content can be overwhelming. If your visitor can't find the answers to their questions, then maybe it's time to cut out the fluff. As they say, time is money. Your website visitors are looking for answers, and if they can't find them fast, they're exiting your page and finding the answer somewhere else. Pro tip: Keep it simple!
5. Increase your trustworthiness.
These days, we're taught to be suspicious of things on the internet. Seeing a brand new Xbox selling for $40 online is probably a scam, but when you visit apple.com and purchase a new computer, you don't question the legality. So what's the difference? Trust. Apple has established itself as a trustworthy company. Obviously, not every business is going to be automatically trusted like Apple. Small businesses can have a hard time breaking through the trust barrier, especially on the internet. Thankfully, there are a few ways to up your website's trustworthiness.
An "about" section: tell your business's story and humanize your brand! People like to know they're buying from real people.

An SSL certificate: if your website address begins with http://, you don't have an SSL certificate. On most popular websites like Amazon and Netflix, you see a little lock icon in the top corner of your screen (where the website address is) along with a domain beginning with https://. The 's' and the lock are what you want on your site. This shows that your website is secure and can be trusted. Find information about SSL certificates here.

Make it easy for people to contact you: your address, phone number, email, social media, and any other way a potential customer can reach you should be laid out clearly.

Use authentic images: stock photos are great, but there is a time and place for them. Using images you took of your actual team or workspace will build trust with your website visitors.
Bonus tip: Integrate Google Analytics to track web traffic.
You're not going to know if these changes are getting the results you want unless you track them! No matter where you built your website, you should be able to set up Google Analytics and watch the results roll in. Learn how to set up Google Analytics tracking here.
Need help setting up Google Analytics or have any questions? Contact Byte Size Digital. We'd be more than happy to set it up, answer your questions, and give you some pro advice for driving traffic to your website. We want to help you turn that, "I need help with my website" into "I love how easy it is to use my website!"