There's a lot that goes into writing a blog. You want it to be easy to read, while demonstrating your knowledge to your readers. Even more importantly, you want it to keep the readers' attention and bring more traffic to your website. Make sure you keep these 8 things in mind next time you're writing a blog.
Heading
Our attention spans are shorter than ever. In the past 15 years, the average attention span of humans has noticeably decreased down to 8.25 seconds . . . shorter than that of a goldfish! Because of this, you want a headline for your blog that's catchy and quickly grabs the reader's attention. 
Meta Description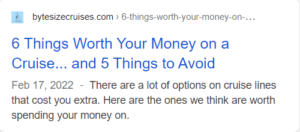 The meta description is just as important as the heading. This is essentially a preview of what your blog is about. Make sure it's clear, but still leaves the reader with questions about your topic. You don't want to give everything away! Here's an example of how your readers would see your meta description.
Introduction
Alright, you've got your reader to click on your blog. Now you've got to keep their attention. The introduction is key to reeling in your reader and convincing them to keep reading. Keep it simple! Leave them wanting more, but stay true to your blog's topic. Nobody likes clickbait! 
Subheadings
Big blocks of text are hard to read. Make sure to break up the body of your blog with subheadings to separate topics and make it easily navigable. This will also help you prevent rambling in your blog! 
Body
This is the meat of your blog. Again, stay true to your topic and keep it simple. Deliver on any promises. It's important to check the readability to make sure your blog is easily understandable by its reader. If you're using a site like WordPress, they'll help you pinpoint areas of your writing that need work. Make sure you're using active voice, and that your sentences aren't too long or complex. If you're just starting out with blogs, check out this blog for WordPress beginners on improving readability, or this one about the Flesch reading ease score and why it's important for your blog. 
Search Engine Optimization 
It doesn't matter how good your blog is if no one can find it! That's where SEO, or Search Engine Optimization, comes in. Similar to readability, sites like WordPress guide you along when improving your SEO. You'll want to make sure you have a focus keyword to make your blog more searchable on the internet. Additionally, frequent usage of your keyword, as well as images and internal and outbound links, will help improve your SEO. 
Conclusion & Call to Action
It's time to tie everything together! The conclusion is a good place to concisely summarize the main points of your blog. This is also the point where you want to put a call to action. This could be a link to a related subject, a request to comment below, a product offer, or prompting the reader to reach out. You want the reader to be satisfied with the blog but still wanting more from you! 
Was this helpful in organizing your blog writing process? We want to hear from you! We know running a business is hard. Byte Size Digital gives entrepreneurs and small business owners the tools they need to run, grow, and scale their companies. Contact us or visit our website to learn more!